Hello!
I just downloaded Flax for Linux to try it on my laptop and tried to create a scene.
However, upon trying to open it it just closes itself.
Steps that lead to the crash:
Run FlaxEditor
Open the Flax.flaxproj inside the directory by default.
Create a new scene in the Content folder (right click, new, scene)
Open it.
It crashes
Here is the crash report that appears when running from the terminal.
preyk@thinkpad ~ $ '/home/preyk/Flax/Binaries/Editor/Linux/Development/FlaxEditor' 
MESA-INTEL: warning: Performance support disabled, consider sysctl dev.i915.perf_stream_paranoid=0


=================================================================
	Native Crash Reporting
=================================================================
Got a SIGSEGV while executing native code. This usually indicates
a fatal error in the mono runtime or one of the native libraries 
used by your application.
=================================================================
/proc/self/maps:
00400000-00402000 r-xp 00000000 08:03 2360511                            /home/preyk/Flax/Binaries/Editor/Linux/Development/FlaxEditor
00601000-00602000 r--p 00001000 08:03 2360511                            /home/preyk/Flax/Binaries/Editor/Linux/Development/FlaxEditor
00602000-00603000 rw-p 00002000 08:03 2360511                            /home/preyk/Flax/Binaries/Editor/Linux/Development/FlaxEditor
0194b000-066b3000 rw-p 00000000 00:00 0                                  [heap]
40218000-407a0000 rwxp 00000000 00:00 0 
4097e000-4098e000 rwxp 00000000 00:00 0 
7f5aac000000-7f5aac021000 rw-p 00000000 00:00 0 
7f5aac021000-7f5ab0000000 ---p 00000000 00:00 0 
7f5ab4000000-7f5ab4021000 rw-p 00000000 00:00 0 
7f5ab4021000-7f5ab8000000 ---p 00000000 00:00 0 
7f5ab9887000-7f5ab988e000 rw-s 110531000 00:0e 9988                      anon_inode:i915.gem
7f5ab988e000-7f5ab9897000 rw-s 109ff7000 00:0e 9988                      anon_inode:i915.gem
7f5ab9897000-7f5ab989d000 rw-s 109ff1000 00:0e 9988                      anon_inode:i915.gem
7f5ab989d000-7f5ab98a4000 rw-s 109fea000 00:0e 9988                      anon_inode:i915.gem
7f5ab98a4000-7f5ab98a9000 rw-s 109fe5000 00:0e 9988                      anon_inode:i915.gem
7f5ab98a9000-7f5ab98b0000 rw-s 109fde000 00:0e 9988                      anon_inode:i915.gem
7f5ab98b0000-7f5ab98b9000 rw-s 109fd5000 00:0e 9988                      anon_inode:i915.gem
7f5ab98b9000-7f5ab98c1000 rw-s 109fcd000 00:0e 9988                      anon_inode:i915.gem
7f5ab98c1000-7f5ab98cb000 rw-s 109fc3000 00:0e 9988                      anon_inode:i915.gem
7f5ab98cb000-7f5ab98d2000 rw-s 109fbc000 00:0e 9988                      anon_inode:i915.gem
7f5ab98d2000-7f5ab98d9000 rw-s 109fb5000 00:0e 9988                      anon_inode:i915.gem
7f5ab98d9000-7f5ab98de000 rw-s 109fb0000 00:0e 9988                      anon_inode:i915.gem
7f5ab98de000-7f5ab98e3000 rw-s 109fab000 00:0e 9988                      anon_inode:i915.gem
7f5ab98e3000-7f5ab98ea000 rw-s 109fa4000 00:0e 9988                      anon_inode:i915.gem
7f5ab98ea000-7f5ab98f3000 rw-s 109f9b000 00:0e 9988                      anon_inode:i915.gem

=================================================================
	Native stacktrace:
=================================================================
	0x7f5b34d2bbde - /home/preyk/Flax/Binaries/Editor/Linux/Development/libmonosgen-2.0.so.1 : (null)
	0x7f5b34cd6105 - /home/preyk/Flax/Binaries/Editor/Linux/Development/libmonosgen-2.0.so.1 : (null)
	0x7f5b34d26b81 - /home/preyk/Flax/Binaries/Editor/Linux/Development/libmonosgen-2.0.so.1 : (null)
	0x7f5b375f72e0 - /usr/lib/libX11.so.6 : Xutf8TextExtents

=================================================================
	Telemetry Dumper:
=================================================================
Pkilling 0x7f5ac8cf2640 from 0x7f5b34bd19c0
Pkilling 0x7f5ae02e9640 from 0x7f5b34bd19c0
Pkilling 0x7f5b2df37640 from 0x7f5b34bd19c0
Pkilling 0x7f5b2d736640 from 0x7f5b34bd19c0
Pkilling 0x7f5b1aad9640 from 0x7f5b34bd19c0
Pkilling 0x7f5acbfff640 from 0x7f5b34bd19c0
Pkilling 0x7f5b2cf35640 from 0x7f5b34bd19c0
Pkilling 0x7f5b18e88640 from 0x7f5b34bd19c0
Entering thread summarizer pause from 0x7f5b34bd19c0
Finished thread summarizer pause from 0x7f5b34bd19c0.

Waiting for dumping threads to resume

Debug info from gdb:


=================================================================
	External Debugger Dump:
=================================================================
[New LWP 24016]
[New LWP 24050]
[New LWP 24051]
[New LWP 24052]
[New LWP 24053]
[New LWP 24054]
[New LWP 24055]
[New LWP 24056]
[New LWP 24065]
[New LWP 24066]
[New LWP 24067]
[New LWP 24068]
[New LWP 24069]
[New LWP 24070]
[New LWP 24071]
[New LWP 24073]
[New LWP 24078]
[New LWP 24080]
[New LWP 24082]
[New LWP 24083]
[New LWP 24084]
Traceback (most recent call last):
  File "/usr/share/gdb/auto-load/usr/lib64/libstdc++.so.6.0.29-gdb.py", line 60, in <module>
    from libstdcxx.v6 import register_libstdcxx_printers
ModuleNotFoundError: No module named 'libstdcxx'
warning: File "/usr/lib64/libthread_db-1.0.so" auto-loading has been declined by your `auto-load safe-path' set to "$debugdir:$datadir/auto-load".
To enable execution of this file add
	add-auto-load-safe-path /usr/lib64/libthread_db-1.0.so
line to your configuration file "/home/preyk/.gdbinit".
To completely disable this security protection add
	set auto-load safe-path /
line to your configuration file "/home/preyk/.gdbinit".
For more information about this security protection see the
"Auto-loading safe path" section in the GDB manual.  E.g., run from the shell:
	info "(gdb)Auto-loading safe path"
warning: Unable to find libthread_db matching inferior's thread library, thread debugging will not be available.
warning: File "/usr/lib64/libthread_db-1.0.so" auto-loading has been declined by your `auto-load safe-path' set to "$debugdir:$datadir/auto-load".
warning: Unable to find libthread_db matching inferior's thread library, thread debugging will not be available.
0x00007f5b353a172f in wait4 () from /usr/lib/haswell/libc.so.6
  Id   Target Id                   Frame 
* 1    LWP 24015 "FlaxEditor"      0x00007f5b353a172f in wait4 () from /usr/lib/haswell/libc.so.6
  2    LWP 24016 "Tracy Profiler"  0x00007f5b353d006f in poll () from /usr/lib/haswell/libc.so.6
  3    LWP 24050 "Thread Pool 0"   0x00007f5b354c50ee in __futex_abstimed_wait_cancelable64 () from /usr/lib/libpthread.so.0
  4    LWP 24051 "Thread Pool 1"   0x00007f5b354c50ee in __futex_abstimed_wait_cancelable64 () from /usr/lib/libpthread.so.0
  5    LWP 24052 "Job System 0"    0x00007f5b354c50ee in __futex_abstimed_wait_cancelable64 () from /usr/lib/libpthread.so.0
  6    LWP 24053 "Job System 1"    0x00007f5b354c50ee in __futex_abstimed_wait_cancelable64 () from /usr/lib/libpthread.so.0
  7    LWP 24054 "Job System 2"    0x00007f5b354c50ee in __futex_abstimed_wait_cancelable64 () from /usr/lib/libpthread.so.0
  8    LWP 24055 "Job System 3"    0x00007f5b354c50ee in __futex_abstimed_wait_cancelable64 () from /usr/lib/libpthread.so.0
  9    LWP 24056 "Load Thread 0"   0x00007f5b354c50ee in __futex_abstimed_wait_cancelable64 () from /usr/lib/libpthread.so.0
  10   LWP 24065 "threaded-ml"     0x00007f5b353d006f in poll () from /usr/lib/haswell/libc.so.6
  11   LWP 24066 "FlaxEditor"      0x00007f5b354c50ee in __futex_abstimed_wait_cancelable64 () from /usr/lib/libpthread.so.0
  12   LWP 24067 "FlaxEditor"      0x00007f5b354c50ee in __futex_abstimed_wait_cancelable64 () from /usr/lib/libpthread.so.0
  13   LWP 24068 "FlaxEdi:disk$0"  0x00007f5b354c50ee in __futex_abstimed_wait_cancelable64 () from /usr/lib/libpthread.so.0
  14   LWP 24069 "FlaxEditor"      0x00007f5b354c50ee in __futex_abstimed_wait_cancelable64 () from /usr/lib/libpthread.so.0
  15   LWP 24070 "SGen worker"     0x00007f5b354c50ee in __futex_abstimed_wait_cancelable64 () from /usr/lib/libpthread.so.0
  16   LWP 24071 "Finalizer"       0x00007f5b354c50ee in __futex_abstimed_wait_cancelable64 () from /usr/lib/libpthread.so.0
  17   LWP 24073 "FlaxEditor"      0x00007f5b354c50ee in __futex_abstimed_wait_cancelable64 () from /usr/lib/libpthread.so.0
  18   LWP 24078 "WSI swapchain q" 0x00007f5b354c50ee in __futex_abstimed_wait_cancelable64 () from /usr/lib/libpthread.so.0
  19   LWP 24080 "WSI swapchain q" 0x00007f5b354c50ee in __futex_abstimed_wait_cancelable64 () from /usr/lib/libpthread.so.0
  20   LWP 24082 "FlaxEditor"      0x00007f5b354c50ee in __futex_abstimed_wait_cancelable64 () from /usr/lib/libpthread.so.0
  21   LWP 24083 "Thread Pool Wor" 0x00007f5b354c50ee in __futex_abstimed_wait_cancelable64 () from /usr/lib/libpthread.so.0
  22   LWP 24084 "Thread Pool Wor" 0x00007f5b354c50ee in __futex_abstimed_wait_cancelable64 () from /usr/lib/libpthread.so.0

Thread 22 (LWP 24084 "Thread Pool Wor"):
#0  0x00007f5b354c50ee in __futex_abstimed_wait_cancelable64 () from /usr/lib/libpthread.so.0
#1  0x00007f5b354c1443 in ?? () from /usr/lib/libpthread.so.0
#2  0x00007f5b34d97447 in ?? () from /home/preyk/Flax/Binaries/Editor/Linux/Development/libmonosgen-2.0.so.1
#3  0x00007f5b34e45866 in ?? () from /home/preyk/Flax/Binaries/Editor/Linux/Development/libmonosgen-2.0.so.1
#4  0x00007f5b34e456f2 in ?? () from /home/preyk/Flax/Binaries/Editor/Linux/Development/libmonosgen-2.0.so.1
#5  0x00007f5b354b841d in ?? () from /usr/lib/libpthread.so.0
#6  0x00007f5b353db8d3 in clone () from /usr/lib/haswell/libc.so.6

Thread 21 (LWP 24083 "Thread Pool Wor"):
#0  0x00007f5b354c50ee in __futex_abstimed_wait_cancelable64 () from /usr/lib/libpthread.so.0
#1  0x00007f5b354c1443 in ?? () from /usr/lib/libpthread.so.0
#2  0x00007f5b34d97447 in ?? () from /home/preyk/Flax/Binaries/Editor/Linux/Development/libmonosgen-2.0.so.1
#3  0x00007f5b34e45866 in ?? () from /home/preyk/Flax/Binaries/Editor/Linux/Development/libmonosgen-2.0.so.1
#4  0x00007f5b34e456f2 in ?? () from /home/preyk/Flax/Binaries/Editor/Linux/Development/libmonosgen-2.0.so.1
#5  0x00007f5b354b841d in ?? () from /usr/lib/libpthread.so.0
#6  0x00007f5b353db8d3 in clone () from /usr/lib/haswell/libc.so.6

Thread 20 (LWP 24082 "FlaxEditor"):
#0  0x00007f5b354c50ee in __futex_abstimed_wait_cancelable64 () from /usr/lib/libpthread.so.0
#1  0x00007f5b354be95b in pthread_cond_timedwait () from /usr/lib/libpthread.so.0
#2  0x00007f5b34efc9a4 in ?? () from /home/preyk/Flax/Binaries/Editor/Linux/Development/libmonosgen-2.0.so.1
#3  0x00007f5b34f071b8 in ?? () from /home/preyk/Flax/Binaries/Editor/Linux/Development/libmonosgen-2.0.so.1
#4  0x00007f5b34d96e33 in ?? () from /home/preyk/Flax/Binaries/Editor/Linux/Development/libmonosgen-2.0.so.1
#5  0x00007f5b34e45866 in ?? () from /home/preyk/Flax/Binaries/Editor/Linux/Development/libmonosgen-2.0.so.1
#6  0x00007f5b34e456f2 in ?? () from /home/preyk/Flax/Binaries/Editor/Linux/Development/libmonosgen-2.0.so.1
#7  0x00007f5b354b841d in ?? () from /usr/lib/libpthread.so.0
#8  0x00007f5b353db8d3 in clone () from /usr/lib/haswell/libc.so.6

Thread 19 (LWP 24080 "WSI swapchain q"):
#0  0x00007f5b354c50ee in __futex_abstimed_wait_cancelable64 () from /usr/lib/libpthread.so.0
#1  0x00007f5b354be95b in pthread_cond_timedwait () from /usr/lib/libpthread.so.0
#2  0x00007f5af9534272 in ?? () from /usr/lib64/libvulkan_intel.so
#3  0x00007f5b354b841d in ?? () from /usr/lib/libpthread.so.0
#4  0x00007f5b353db8d3 in clone () from /usr/lib/haswell/libc.so.6

Thread 18 (LWP 24078 "WSI swapchain q"):
#0  0x00007f5b354c50ee in __futex_abstimed_wait_cancelable64 () from /usr/lib/libpthread.so.0
#1  0x00007f5b354be95b in pthread_cond_timedwait () from /usr/lib/libpthread.so.0
#2  0x00007f5af9534272 in ?? () from /usr/lib64/libvulkan_intel.so
#3  0x00007f5b354b841d in ?? () from /usr/lib/libpthread.so.0
#4  0x00007f5b353db8d3 in clone () from /usr/lib/haswell/libc.so.6

Thread 17 (LWP 24073 "FlaxEditor"):
#0  0x00007f5b354c50ee in __futex_abstimed_wait_cancelable64 () from /usr/lib/libpthread.so.0
#1  0x00007f5b354be521 in pthread_cond_wait () from /usr/lib/libpthread.so.0
#2  0x00007f5b36c3ff9f in physx::shdfnd::SyncImpl::wait(unsigned int) () from /home/preyk/Flax/Binaries/Editor/Linux/Development/libFlaxEditor.so
#3  0x00007f5b36c35467 in physx::Ext::CpuWorkerThread::execute() () from /home/preyk/Flax/Binaries/Editor/Linux/Development/libFlaxEditor.so
#4  0x00007f5b36c40217 in ?? () from /home/preyk/Flax/Binaries/Editor/Linux/Development/libFlaxEditor.so
#5  0x00007f5b354b841d in ?? () from /usr/lib/libpthread.so.0
#6  0x00007f5b353db8d3 in clone () from /usr/lib/haswell/libc.so.6

Thread 16 (LWP 24071 "Finalizer"):
#0  0x00007f5b354c50ee in __futex_abstimed_wait_cancelable64 () from /usr/lib/libpthread.so.0
#1  0x00007f5b354c12a8 in ?? () from /usr/lib/libpthread.so.0
#2  0x00007f5b34e9573b in ?? () from /home/preyk/Flax/Binaries/Editor/Linux/Development/libmonosgen-2.0.so.1
#3  0x00007f5b34e45866 in ?? () from /home/preyk/Flax/Binaries/Editor/Linux/Development/libmonosgen-2.0.so.1
#4  0x00007f5b34e456f2 in ?? () from /home/preyk/Flax/Binaries/Editor/Linux/Development/libmonosgen-2.0.so.1
#5  0x00007f5b354b841d in ?? () from /usr/lib/libpthread.so.0
#6  0x00007f5b353db8d3 in clone () from /usr/lib/haswell/libc.so.6

Thread 15 (LWP 24070 "SGen worker"):
#0  0x00007f5b354c50ee in __futex_abstimed_wait_cancelable64 () from /usr/lib/libpthread.so.0
#1  0x00007f5b354be521 in pthread_cond_wait () from /usr/lib/libpthread.so.0
#2  0x00007f5b34eeb69f in ?? () from /home/preyk/Flax/Binaries/Editor/Linux/Development/libmonosgen-2.0.so.1
#3  0x00007f5b354b841d in ?? () from /usr/lib/libpthread.so.0
#4  0x00007f5b353db8d3 in clone () from /usr/lib/haswell/libc.so.6

Thread 14 (LWP 24069 "FlaxEditor"):
#0  0x00007f5b354c50ee in __futex_abstimed_wait_cancelable64 () from /usr/lib/libpthread.so.0
#1  0x00007f5b354be521 in pthread_cond_wait () from /usr/lib/libpthread.so.0
#2  0x00007f5af931120d in ?? () from /usr/lib64/libvulkan_intel.so
#3  0x00007f5b354b841d in ?? () from /usr/lib/libpthread.so.0
#4  0x00007f5b353db8d3 in clone () from /usr/lib/haswell/libc.so.6

Thread 13 (LWP 24068 "FlaxEdi:disk$0"):
#0  0x00007f5b354c50ee in __futex_abstimed_wait_cancelable64 () from /usr/lib/libpthread.so.0
#1  0x00007f5b354be521 in pthread_cond_wait () from /usr/lib/libpthread.so.0
#2  0x00007f5af95070fb in ?? () from /usr/lib64/libvulkan_intel.so
#3  0x00007f5af9506bd7 in ?? () from /usr/lib64/libvulkan_intel.so
#4  0x00007f5b354b841d in ?? () from /usr/lib/libpthread.so.0
#5  0x00007f5b353db8d3 in clone () from /usr/lib/haswell/libc.so.6

Thread 12 (LWP 24067 "FlaxEditor"):
#0  0x00007f5b354c50ee in __futex_abstimed_wait_cancelable64 () from /usr/lib/libpthread.so.0
#1  0x00007f5b354c12a8 in ?? () from /usr/lib/libpthread.so.0
#2  0x00007f5b36212606 in ?? () from /home/preyk/Flax/Binaries/Editor/Linux/Development/libFlaxEditor.so
#3  0x00007f5b36216f7a in ?? () from /home/preyk/Flax/Binaries/Editor/Linux/Development/libFlaxEditor.so
#4  0x00007f5b36212436 in ?? () from /home/preyk/Flax/Binaries/Editor/Linux/Development/libFlaxEditor.so
#5  0x00007f5b354b841d in ?? () from /usr/lib/libpthread.so.0
#6  0x00007f5b353db8d3 in clone () from /usr/lib/haswell/libc.so.6

Thread 11 (LWP 24066 "FlaxEditor"):
#0  0x00007f5b354c50ee in __futex_abstimed_wait_cancelable64 () from /usr/lib/libpthread.so.0
#1  0x00007f5b354be521 in pthread_cond_wait () from /usr/lib/libpthread.so.0
#2  0x00007f5b2c156f83 in pa_threaded_mainloop_wait () from /usr/lib/libpulse.so.0
#3  0x00007f5b3620e75a in ?? () from /home/preyk/Flax/Binaries/Editor/Linux/Development/libFlaxEditor.so
#4  0x00007f5b36212436 in ?? () from /home/preyk/Flax/Binaries/Editor/Linux/Development/libFlaxEditor.so
#5  0x00007f5b354b841d in ?? () from /usr/lib/libpthread.so.0
#6  0x00007f5b353db8d3 in clone () from /usr/lib/haswell/libc.so.6

Thread 10 (LWP 24065 "threaded-ml"):
#0  0x00007f5b353d006f in poll () from /usr/lib/haswell/libc.so.6
#1  0x00007f5b2c1568a6 in ?? () from /usr/lib/libpulse.so.0
#2  0x00007f5b2c14a8ed in pa_mainloop_poll () from /usr/lib/libpulse.so.0
#3  0x00007f5b2c14adf9 in pa_mainloop_iterate () from /usr/lib/libpulse.so.0
#4  0x00007f5b2c14ae45 in pa_mainloop_run () from /usr/lib/libpulse.so.0
#5  0x00007f5b2c156966 in ?? () from /usr/lib/libpulse.so.0
#6  0x00007f5b2c0ff9f4 in ?? () from /usr/lib64/pulseaudio/libpulsecommon-15.0.so
#7  0x00007f5b354b841d in ?? () from /usr/lib/libpthread.so.0
#8  0x00007f5b353db8d3 in clone () from /usr/lib/haswell/libc.so.6

Thread 9 (LWP 24056 "Load Thread 0"):
#0  0x00007f5b354c50ee in __futex_abstimed_wait_cancelable64 () from /usr/lib/libpthread.so.0
#1  0x00007f5b354be521 in pthread_cond_wait () from /usr/lib/libpthread.so.0
#2  0x00007f5b35f99367 in ?? () from /home/preyk/Flax/Binaries/Editor/Linux/Development/libFlaxEditor.so
#3  0x00007f5b35ca9cb6 in ThreadBase::Run() () from /home/preyk/Flax/Binaries/Editor/Linux/Development/libFlaxEditor.so
#4  0x00007f5b35cb2cc6 in ?? () from /home/preyk/Flax/Binaries/Editor/Linux/Development/libFlaxEditor.so
#5  0x00007f5b354b841d in ?? () from /usr/lib/libpthread.so.0
#6  0x00007f5b353db8d3 in clone () from /usr/lib/haswell/libc.so.6

Thread 8 (LWP 24055 "Job System 3"):
#0  0x00007f5b354c50ee in __futex_abstimed_wait_cancelable64 () from /usr/lib/libpthread.so.0
#1  0x00007f5b354be521 in pthread_cond_wait () from /usr/lib/libpthread.so.0
#2  0x00007f5b361398f3 in ?? () from /home/preyk/Flax/Binaries/Editor/Linux/Development/libFlaxEditor.so
#3  0x00007f5b35ca9cb6 in ThreadBase::Run() () from /home/preyk/Flax/Binaries/Editor/Linux/Development/libFlaxEditor.so
#4  0x00007f5b35cb2cc6 in ?? () from /home/preyk/Flax/Binaries/Editor/Linux/Development/libFlaxEditor.so
#5  0x00007f5b354b841d in ?? () from /usr/lib/libpthread.so.0
#6  0x00007f5b353db8d3 in clone () from /usr/lib/haswell/libc.so.6

Thread 7 (LWP 24054 "Job System 2"):
#0  0x00007f5b354c50ee in __futex_abstimed_wait_cancelable64 () from /usr/lib/libpthread.so.0
#1  0x00007f5b354be521 in pthread_cond_wait () from /usr/lib/libpthread.so.0
#2  0x00007f5b361398f3 in ?? () from /home/preyk/Flax/Binaries/Editor/Linux/Development/libFlaxEditor.so
#3  0x00007f5b35ca9cb6 in ThreadBase::Run() () from /home/preyk/Flax/Binaries/Editor/Linux/Development/libFlaxEditor.so
#4  0x00007f5b35cb2cc6 in ?? () from /home/preyk/Flax/Binaries/Editor/Linux/Development/libFlaxEditor.so
#5  0x00007f5b354b841d in ?? () from /usr/lib/libpthread.so.0
#6  0x00007f5b353db8d3 in clone () from /usr/lib/haswell/libc.so.6

Thread 6 (LWP 24053 "Job System 1"):
#0  0x00007f5b354c50ee in __futex_abstimed_wait_cancelable64 () from /usr/lib/libpthread.so.0
#1  0x00007f5b354be521 in pthread_cond_wait () from /usr/lib/libpthread.so.0
#2  0x00007f5b361398f3 in ?? () from /home/preyk/Flax/Binaries/Editor/Linux/Development/libFlaxEditor.so
#3  0x00007f5b35ca9cb6 in ThreadBase::Run() () from /home/preyk/Flax/Binaries/Editor/Linux/Development/libFlaxEditor.so
#4  0x00007f5b35cb2cc6 in ?? () from /home/preyk/Flax/Binaries/Editor/Linux/Development/libFlaxEditor.so
#5  0x00007f5b354b841d in ?? () from /usr/lib/libpthread.so.0
#6  0x00007f5b353db8d3 in clone () from /usr/lib/haswell/libc.so.6

Thread 5 (LWP 24052 "Job System 0"):
#0  0x00007f5b354c50ee in __futex_abstimed_wait_cancelable64 () from /usr/lib/libpthread.so.0
#1  0x00007f5b354be521 in pthread_cond_wait () from /usr/lib/libpthread.so.0
#2  0x00007f5b361398f3 in ?? () from /home/preyk/Flax/Binaries/Editor/Linux/Development/libFlaxEditor.so
#3  0x00007f5b35ca9cb6 in ThreadBase::Run() () from /home/preyk/Flax/Binaries/Editor/Linux/Development/libFlaxEditor.so
#4  0x00007f5b35cb2cc6 in ?? () from /home/preyk/Flax/Binaries/Editor/Linux/Development/libFlaxEditor.so
#5  0x00007f5b354b841d in ?? () from /usr/lib/libpthread.so.0
#6  0x00007f5b353db8d3 in clone () from /usr/lib/haswell/libc.so.6

Thread 4 (LWP 24051 "Thread Pool 1"):
#0  0x00007f5b354c50ee in __futex_abstimed_wait_cancelable64 () from /usr/lib/libpthread.so.0
#1  0x00007f5b354be521 in pthread_cond_wait () from /usr/lib/libpthread.so.0
#2  0x00007f5b36137dfb in ?? () from /home/preyk/Flax/Binaries/Editor/Linux/Development/libFlaxEditor.so
#3  0x00007f5b35ca9cb6 in ThreadBase::Run() () from /home/preyk/Flax/Binaries/Editor/Linux/Development/libFlaxEditor.so
#4  0x00007f5b35cb2cc6 in ?? () from /home/preyk/Flax/Binaries/Editor/Linux/Development/libFlaxEditor.so
#5  0x00007f5b354b841d in ?? () from /usr/lib/libpthread.so.0
#6  0x00007f5b353db8d3 in clone () from /usr/lib/haswell/libc.so.6

Thread 3 (LWP 24050 "Thread Pool 0"):
#0  0x00007f5b354c50ee in __futex_abstimed_wait_cancelable64 () from /usr/lib/libpthread.so.0
#1  0x00007f5b354be521 in pthread_cond_wait () from /usr/lib/libpthread.so.0
#2  0x00007f5b36137dfb in ?? () from /home/preyk/Flax/Binaries/Editor/Linux/Development/libFlaxEditor.so
#3  0x00007f5b35ca9cb6 in ThreadBase::Run() () from /home/preyk/Flax/Binaries/Editor/Linux/Development/libFlaxEditor.so
#4  0x00007f5b35cb2cc6 in ?? () from /home/preyk/Flax/Binaries/Editor/Linux/Development/libFlaxEditor.so
#5  0x00007f5b354b841d in ?? () from /usr/lib/libpthread.so.0
#6  0x00007f5b353db8d3 in clone () from /usr/lib/haswell/libc.so.6

Thread 2 (LWP 24016 "Tracy Profiler"):
#0  0x00007f5b353d006f in poll () from /usr/lib/haswell/libc.so.6
#1  0x00007f5b35c62869 in ?? () from /home/preyk/Flax/Binaries/Editor/Linux/Development/libFlaxEditor.so
#2  0x00007f5b35c610a1 in tracy::Profiler::Worker() () from /home/preyk/Flax/Binaries/Editor/Linux/Development/libFlaxEditor.so
#3  0x00007f5b35c7f87a in ?? () from /home/preyk/Flax/Binaries/Editor/Linux/Development/libFlaxEditor.so
#4  0x00007f5b354b841d in ?? () from /usr/lib/libpthread.so.0
#5  0x00007f5b353db8d3 in clone () from /usr/lib/haswell/libc.so.6

Thread 1 (LWP 24015 "FlaxEditor"):
#0  0x00007f5b353a172f in wait4 () from /usr/lib/haswell/libc.so.6
#1  0x00007f5b34d2be02 in ?? () from /home/preyk/Flax/Binaries/Editor/Linux/Development/libmonosgen-2.0.so.1
#2  0x00007f5b34cd6105 in ?? () from /home/preyk/Flax/Binaries/Editor/Linux/Development/libmonosgen-2.0.so.1
#3  0x00007f5b34d26b81 in ?? () from /home/preyk/Flax/Binaries/Editor/Linux/Development/libmonosgen-2.0.so.1
#4  0x00007f5b375f72e0 in ?? () from /usr/lib/libX11.so.6
#5  0x00000000442f0000 in ?? ()
#6  0x0000000000000000 in ?? ()
[Inferior 1 (process 24015) detached]
Aborted (core dumped)


My platform: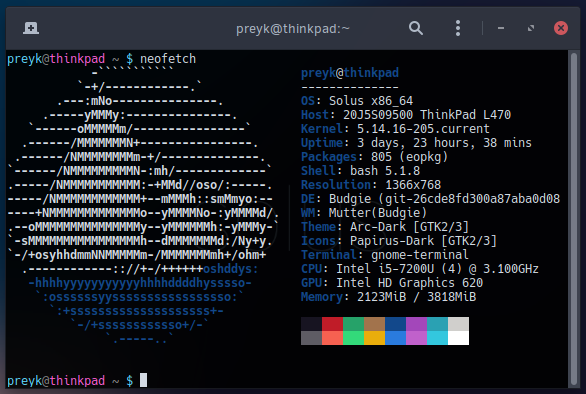 OS: Solus 4.2 Fortitude (kernel 5.14)
CPU: Intel core i5-7200U
GPU: Intel HD 620 (MESA)
RAM: 4GB